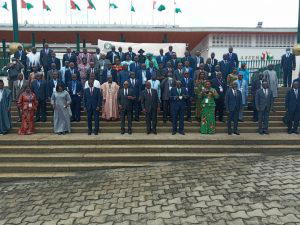 Members of the ECOWAS Parliament on Tuesday converged in Abidjan, Cote d'Ivoire, to deliberate on tackling the electricity challenge in Member Countries, which has stalled the development of the region.
Covering the event virtually, the News Agency of Nigeria (NAN) reports that the Delocalised meeting of the Parliament is holding from Aug. 10 to Aug. 14.
The meeting is themed: "Ensuring energy efficiency in West Africa with emphasis on innovation, active involvement of the private sector and citizen participation".
Speaking at the opening, Hon. Sidie Tunis, Speaker of the ECOWAS Parliament, lamented the poor electricity in Member States which he says has affected development of the region, discouraging foreign investors.
Tunis said that the rate of access to electricity in the ECOWAS region is one of the lowest in the world, noting that the issue of energy survival is oddly in contrast with the potential of the region.
He also noted that energy security is a matter of survival for companies in the sub-region given the cost of energy and its accessibility.
Tunis said that the sub-region, however, has the requisite natural resources to ensure steady power supply which unfortunately are not being effectively explored.
"I wish to observe with delight that our region has tremendous potential for all sources of energy.
"As regards conventional energies, the terms of reference of our meeting indicate that our region accounts for about one-third of verified reserves of oil and one-third of natural gas reserves on the African continent.
"We are not unaware that such fossil energies are the cause of the emissions of greenhouse gases.
"As for renewable energies, the ECOWAS region has a wide range of very diverse energy resources, from biomass to solar and marine energy, including hydraulic, geothermal and wind energy, among others.
"These renewable energies can contribute significantly to improving energy security for both households and companies in the region," Tunis said.